About the Project
An internal portal was developed to be used by the corporate and property I.T. departments. Creating a new application from scratch with a massive amount of information to be used by many employees with different positions and backgrounds proved challenging. However, by attempting to keep it as simple as possible and in more of the style of a dashboard, overall feedback from management and team members was positive.
Client
I.T. Department
Created at
Las Vegas Sands Corp.
Project Team
Kong Cheong
Naoko Fujikawa
Stephanie Graf
Andrew Klug,
(Abintra Designs)
---
Project Description
The goal of the Las Vegas Sands I.T. portal was to be the one location where all team members in information technology could gain recent news and insight about most happenings within the department. This included information about projects, governance, programs, presentations, teams, and training.
---
Models and Requirements
Using the information gathered from senior management, the team developed a baseline set of requirements for the design of the portal.
PERSONAS
Executive Leadership Persona: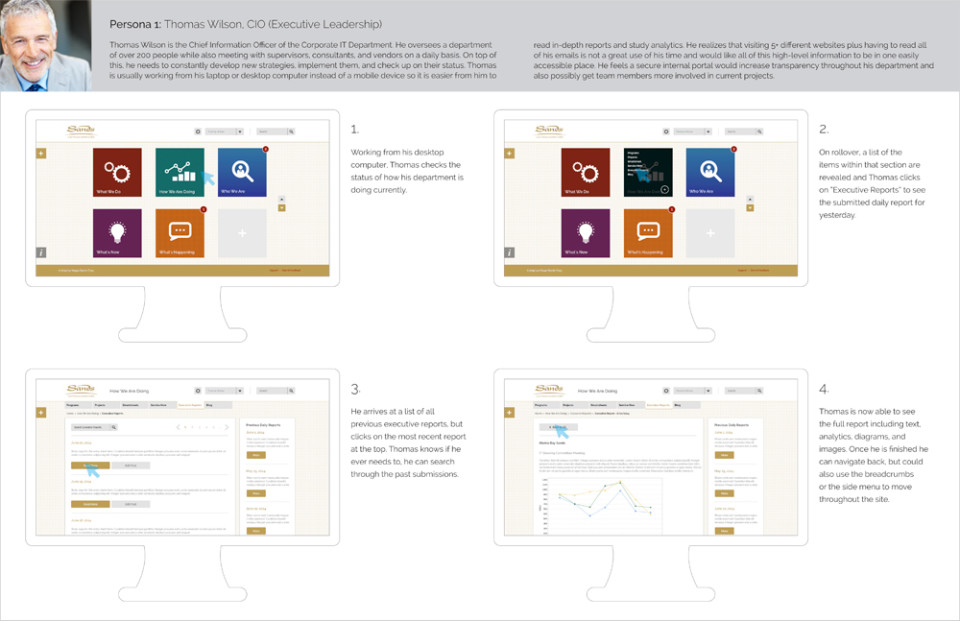 Project Manager Persona: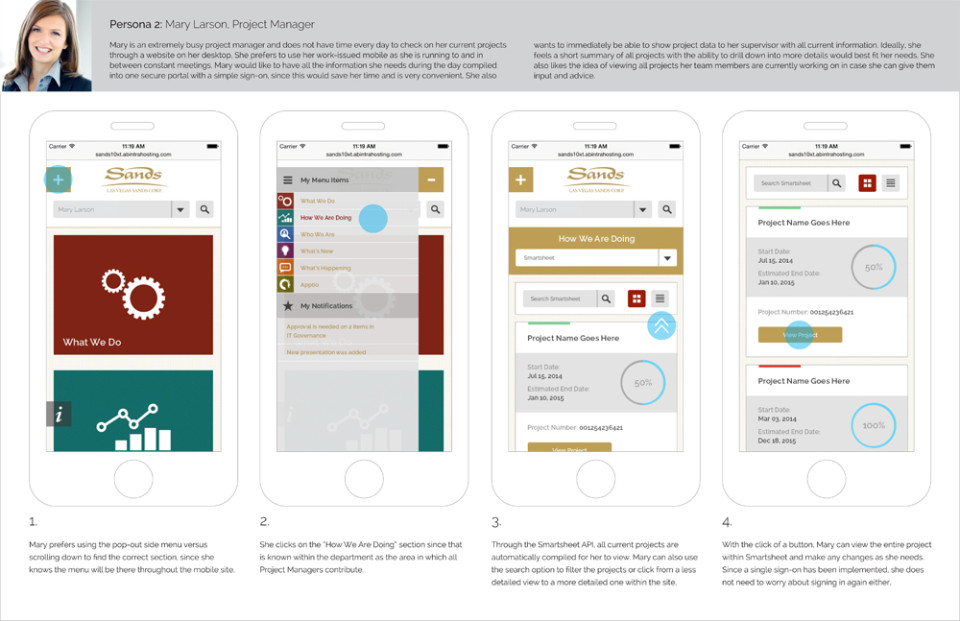 REQUIREMENTS
Based on the information gathered up to this point in the project, these were some of the requirements:
General/Overall
Browsers
It is required that the Portal is compatible in all browsers including Safari, Chrome, Internet Explorer and Firefox
Additional Portal Security
Integrate architecture drawing as provided by CISO team
Perform security tests provided by CISO team and make changes as necessary
User Access Options (Personas)
Super User: Has complete access to entire portal and can modify/add/delete user accounts
Editor: User can access any records in this section
Author & Viewer: User can view any record and modify records they've created
Author: User can only access records they've created
Viewer: User can view any record in this section
Backend CMS
Background Image uploading
Need to add functionality to upload a new image for 1) Log In Page Background, 2) Home Page Background and 3) Interior Page Background
All Content Sections, Images
Need to implement Small, Medium, Large, X-Large sizing options when uploading an image.
Small: 300px wide by proportional height
Medium: 640px wide by proportional height
Large: 823px wide by proportional height
All Content Sections, Text
Need to implement text selections that are simplified by only having options for Headline and Regular Body Copy. These options will replace what is currently listed in the drop down menus for Format and Font size
Headline (h1): Black, 16px
Regular Body Copy (h2): Grey, 13px
Video Training
In the CMS make a videos upload at a set size which is 823px wide by proportional height to fit the frame the video is placed in.
This needs to be responsive to adjust to the size of the frame for all devices.
Disclaimer Date
Please make the year in the disclaimer automatically update every year
Log In
Log In – Desktop, Tablet, Mobile
Logging in by entering a current user Email Address and Password and clicking the Sign In button must function correctly
Log In > Remember Me Radio Button
When this is clicked, it keeps the user signed into the portal for 10 minutes with no action
When this is clicked, it will remember the user email address to that IP address
When this is unclicked, it signs the user out after the user closes the browser window for the portal
Log In > Forgot your password?
On click on Request New Password button, it states that "Password has been reset. An email has been sent to you."
The user requesting the new password should receive an email with a new temporary password
Log In > Don't have an account? Sign up
On click of Create Account, the user is added to the CMS
The Super User should receive an email about authorizing the new user account
The Super User should receive a notification within the portal (front-end) about authorizing the new user account
Home - Desktop
Welcome Page
It is required that immediately after each login, all users will see "Welcome!" page which is a lightbox that resembles the other lightboxes throughout the site.
Top banner of lightbox will include "Welcome! |  Current Date" (Day, Month, Numerical Day) and a Close Box Option on the right, "X"
The Welcome Page is divided into 2 sections. Left side will have copy and an image. "Las Vegas Sands Corporate Office of Information & Innovation" will be the headline. Body copy will include "Vision:…", "Mission:…" and "Objectives:…".
Image: If possible, multiple photos can be uploaded and will rotate on a timed basis.
Left side items (copy and image) will need to be added to the backend CMS so they can be changed in the future.
Right side section will have a list of the user's notifications. These will be able to be clicked on to take the user to that item. Gold is standard text state color, maroon is rollover state.
At the bottom of the My Notifications page. For security purposes, the user's name and last sign on date will appear (Day, Numerical Date and Time)
Close Box option – When closing this box, if possible please do an animation that shows the box moving towards the bottom left side of the screen where the "i" icon is to show the user that is where they can find (similar to You Tube)
. . .
---
Conceptual Design
Alongside gathering of the requirements, a navigation map was created to reflect the necessary portal needs.
NAVIGATION MAP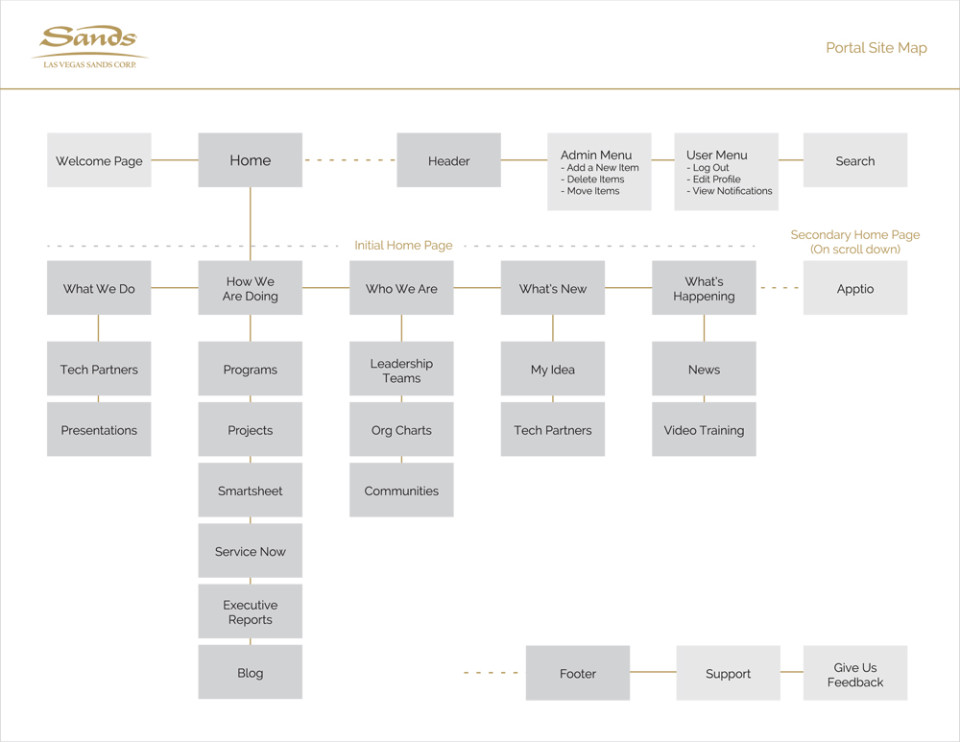 Two versions of wireframes were created to get feedback on which direction of layout the portal should move forward with.
WIREFRAME MODELS
Version 1: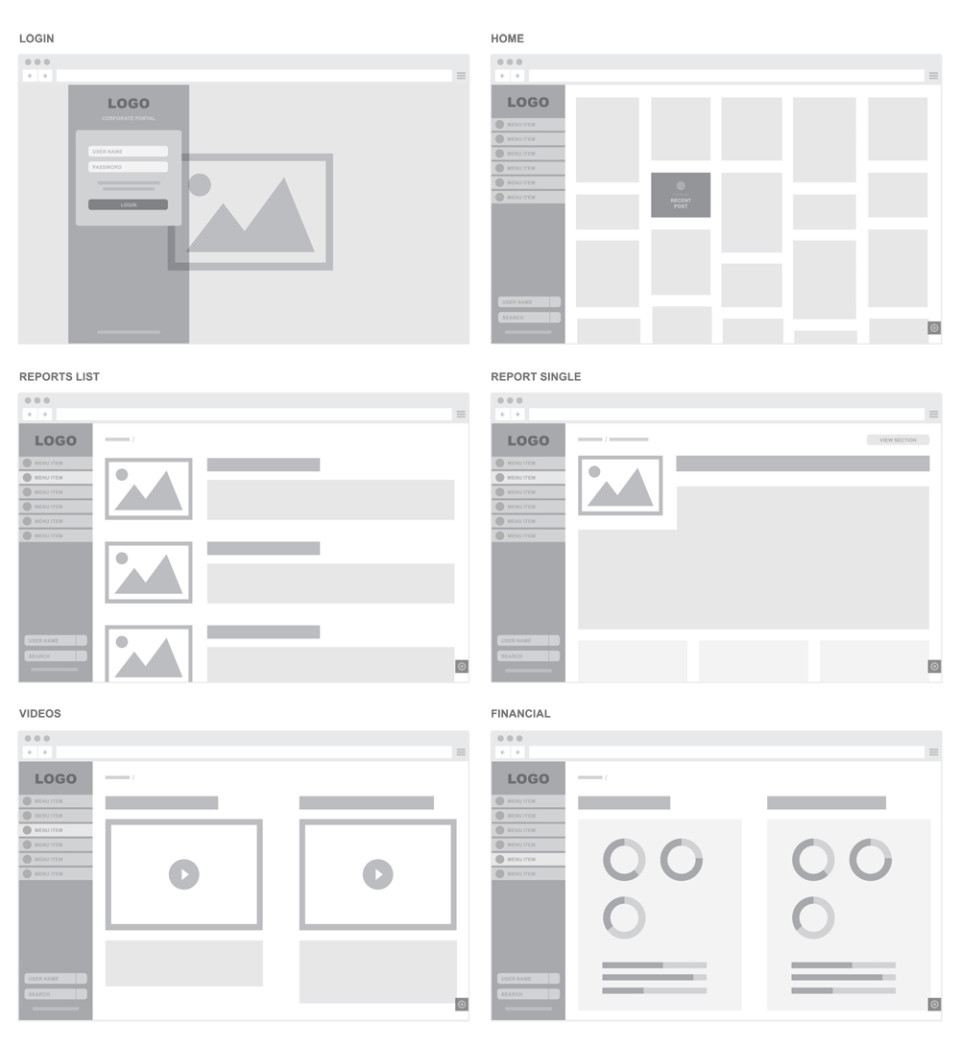 Version 2: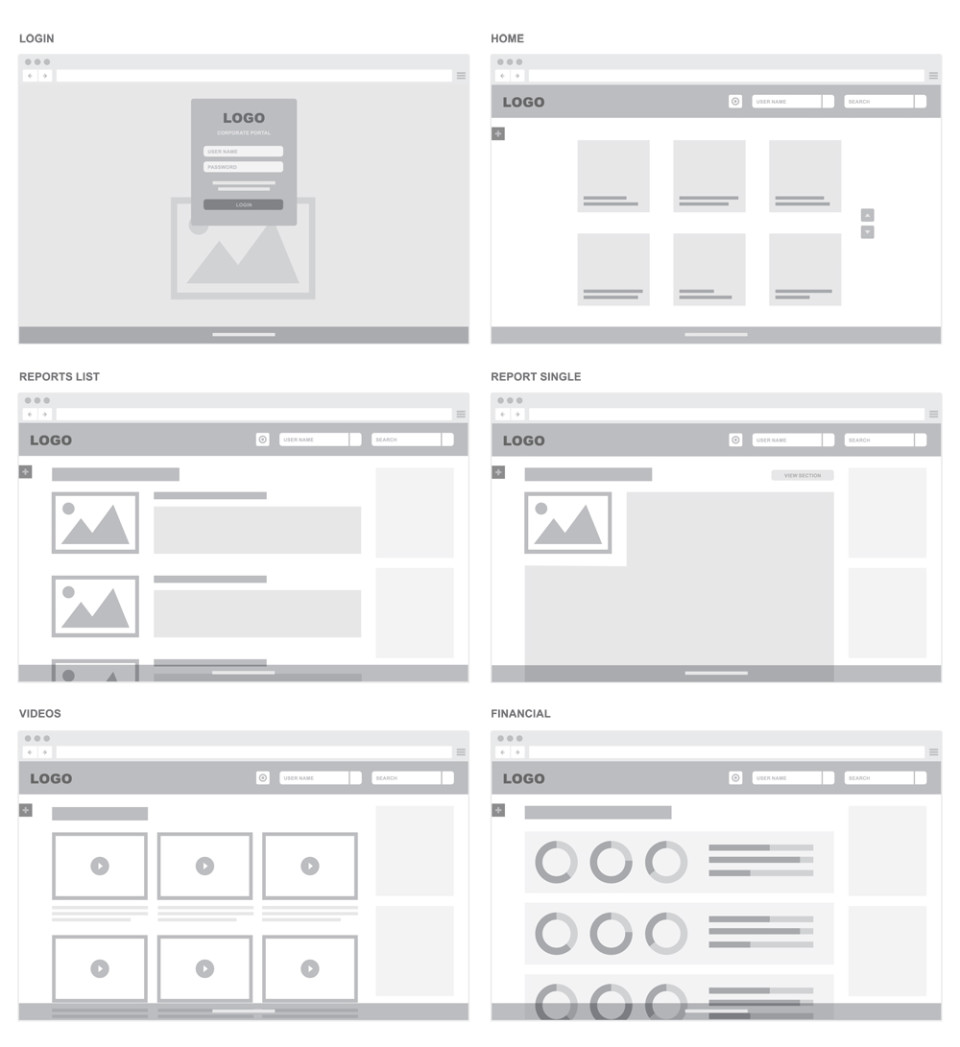 HIGH FIDELITY DESIGNS
Version 2 was selected to move forward with for the high fidelity UI designs.